Precision Laser PhotoPlot Films and Photomask Services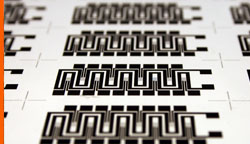 LASER PLOTTED FILM PHOTOMASKS

Feature sizes down to 7 microns
Up to 32" x 28" film size
From 10,160 to 50,800 DPI resolution
0.007" Polyester base, stabilized emulsion
PANELIZATION, CAD/CAM, DATA CONVERSIONS

For plotter-ready Gerber 274X, 274D, Fire 9000, or DPF files, the conversion fees are waived.
For DXF/DWG, GDS, CIF, EPS/PS/AI/PDF files, the conversion fee applies (with rare exceptions).
For raster files in BMP, PNG, or TIF format, or for files that contain both vector and raster components, the conversion fee applies.
For a list of recommended programs to use to perform your own DXF to Gerber conversions, please click here to send us an email request.
For CAD/CAM editing and design work, the shop rate for labor may apply. Please click on the Contact page link above to request a quotation.
Typically, no extra charge applies for simple panelizations. For step & repeat panelizations that result in 100K or more instances, especially for multiple panelizations on one film, a small fee may apply.
Our turn-around times are FAST! - typically within just a few hours after checkplot approval and receipt of payment authorization (credit card or purchase order).
More details about Fineline's capabilities are available upon request. Please click here to send an email request.
SPECIAL OFFER:To get a complimentary 50K dpi film showing the plotter's capabilities, please click here.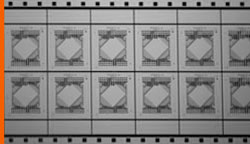 TOOLING, HOLE PUNCHING

.1250" Dia. Spartanic Punch
---
CUSTOMER SERVICES
Assistance available for tooling, layout, design optimization & manufacturability, etch comps, and copper area calculations.
Fineline Imaging Custom Order Form and Price List:
Download Fineline's custom order form here: Adobe PDF
Please click here to see the latest price list in PDF format, effective November 19, 2018.